Tempe Town Lake Boat Ramp
Article By Shorty
It is a small lake that is about 1.38 miles long (between Mill Bridge and the East Dam), 1/3 mile wide. No motorboats allowed, just sailboats and paddle boats. (and electric trolling motors) The lake is divided by 3 bridges, with
inflatable dams at each end. (making it the largest inflatable pool I have ever played in)
On the South side of the lake is the Beach Park, but does not have any boat access points. On the North West corner of the lake is the Boat Beach, which is where rowing shells and kayaks are launched. On the North East corner is where the Boat Marina / Ramp is located. This is where you launch from a trailer, they have ample parking and a great pull thru area for making your boat ready. The lake was created by installing inflatable dams in the mostly dry river bed area of the Salt River. The reason they use inflatable dams is that when the rains come, two lakes up stream release large amounts of water from their dams when then floods the area. So during these periods, the dams are partially deflated to let the water pass.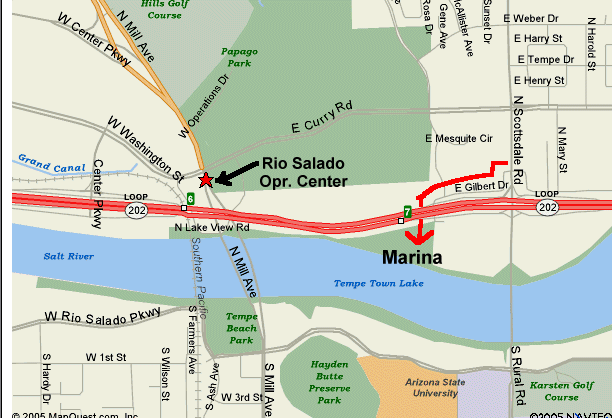 -- Directions to Marina / Boat RAMP---
From 51 & I-10
E on 202
Exit Scottsdale Rd / S. Rural exit #6
L (north) on Scottsdale road, go 1/4 of a block
L (west) on E. Gilbert Dr., This will take you West along the North side of the freeway
go about 1/4 mile where you can cross under the freeway
will end up at the boat ramp / marina - plenty of free parking
right next to a horse farm
Public boating is open from 5:00 AM to 10:00 PM.
-- Directions to Operation Center & Boat BEACH

S on 51
E on 202
Exit #5 N. Priest Dr.
N on Mill Ave, go 1/2 mile
R (east) on W. Washington, go 1/2 mile
R on N. Mill Ave, go 1 block
R into parking lot before bridge
Mapquest Addr: 620 N. Mill Avenue Tempe, Arizona 85281 480 350-8625
Mailing Addr: PO Box 5002 Tempe, AZ 85280
Hours Open: M-F 7:30 a.m. - 5:30 p.m., Sat 8 a.m. - 1 p.m.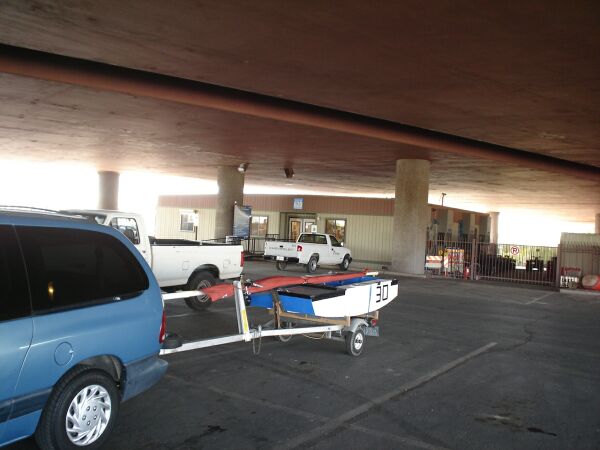 Register Your Boat
All boats that sail (or paddle) on TTL must either buy an annual registration sticker for $25 (or $5 for Tempe residents), or purchase a day pass for $5. This is the Rio Salado Operation center where you purchase your registration, it is basically a mobile home / trailer office located under the office is located under the Mill Ave bridge, and shares a parking lot with a movie theater.
About 100 yards away from the office is the "boat beach", which is a sandy area that you can pull up and launch small boats like kayaks and rowing shells. They also have a gated storage facility where some of the rowing club boats are stored.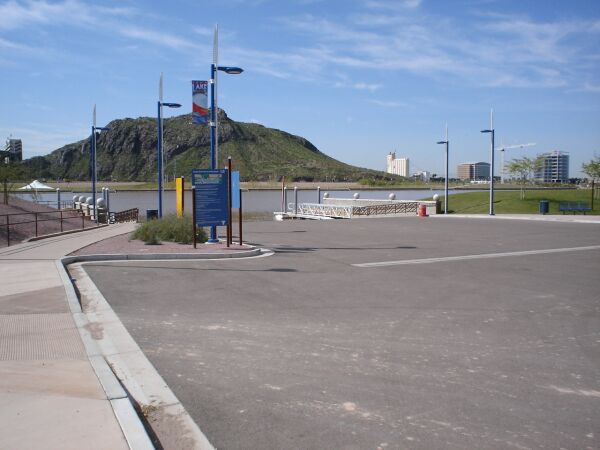 Boat Ramp

At the Marina is the boat ramp. It has a very nice layout with a gated storage area in the middle so you can rent a spot and leave a boat down there if you like. The parking spaces for boats & trailers are all pull thru style so you don't have to do any tricky backing. The make ready area is in a logical position next to the ramp, and all of the driveways go in a large circle.
This photo shows the ramp which is a bit on the shallow side so if you have a deep draft boat, you may need a tongue extension or need to do the dolley wheel trick.
Grassy Hill - to the right of the ramp you can see the end of the hill, it is a very well manicured grassy area that is excellent for setting up picnics and viewing the lake. The marina also has a very private feel to it, being located next to the freeway and the only entrance is from under the freeway bridge, there is almost no thru traffic and the only pedestrian traffic are boaters or people exercising on the bike path. It almost has the feel of a private club, but without the cost.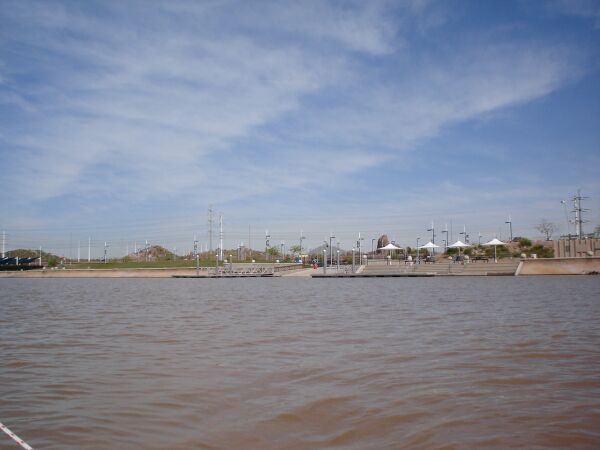 This is on the water looking back at the ramp, to the right you can see some shaded tables with step areas for sitting, and to the left is the grassy hill. Further to the left beyond the photo is a docking area with slips. A number of boats are slipped there but I don't think any of those spots are available for rent.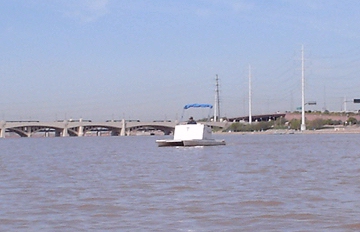 Here come the cops !! This is one of the lake patrol guys, they also use similar boats as support for the rowing club.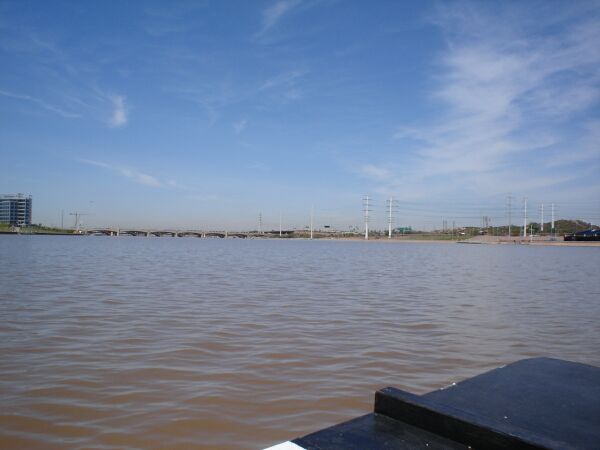 This is a view from the middle of the lake, near the ramp looking West. As you can see, it is a small lake, but big enough to have lots of fun, and the absence of PWC & drunken power boaters is greatly apreciated !!!
Sailing Clubs In Arizona
Arizona Yacht Club
Sailing Adventure Club
Lake Pleasant Sailing Club
(at Meetup.com)
Hobie Fleet 66 Phoenix
AZ Cat Sailor.com
Tucson Sailing Club
Tucson Hobie Fleet 514
Rio Grande Sail Club
Rio Salado Rowing Club
Mesa Model Yacht Club
Pima Micro Yacht Club (model sailboats - Tucson AZ)
Tempe Town Lake Links
Weather Station at Tempe Town Lake
Rio Salado
Lake Closure Email Notification
Lake Web Cam
Tempe - Weather Underground
Tempe - Accuweather.com
Tempe - Weather Channel
Lake Pleasant Links
Pleasant Harbor Marina
The Sailboat Shop - At Lake Pleasant
Scorpion Bay Marina (new for 2006)
Lake Pleasant weather text
Arizona Lake Levels
AZ Game and Fish Advisories
Arizona Game and Fish
I called AZ Game & Fish and they said no-motorized boats do NOT have to registered, no matter what size according to AZ house bill 2015 If you put an electric or gas motor on the boat, then the boat does need to be registered. Registration is fairly cheap, only $4.95 plus $0.47 per foot
Arizona Department of Transportation
(602) 255-0072
office locations
In May 2005, I re-titled my trailers in AZ and went thru the process, it is a bit different than what it evidently used to be so here is what I found out:
Buying a new trailer --
you will get a title or manufacturer's statement of origin for the trailer, you take this to your local MVD office and they will issue you an AZ title for the trailer, and then give you a license plate. It costs about $130 for the registration. This is permanent registration, so you don't have to renew it, it is just a one time fee.
Selling / Buying a used trailer --
when you sell a trailer, you sign the back of the title and fill it out with the new owner info, and give it them,
but you keep your license plate.
The new owner takes the title down and gets a new plate for the trailer, but if the trailer is older than 2 years old, they don't have to pay the $130 registration cost, they pay a minimal $16 and get a plate which they will end up keeping. If the new owner already has a trailer plate, then they get that plate assigned to the new trailer.
Buying trailer from Out Of State --
If you get a trailer from out of state that doesn't have titles, you need to get a copy of their last registration. You can use this to get a new AZ title.
Build a trailer --
If you build a trailer from scratch, you need to bring it in to have it examined, and it will cost $7.00 to have a number stamped on it.