Saw / Drill / Router custom tables
Article By Shorty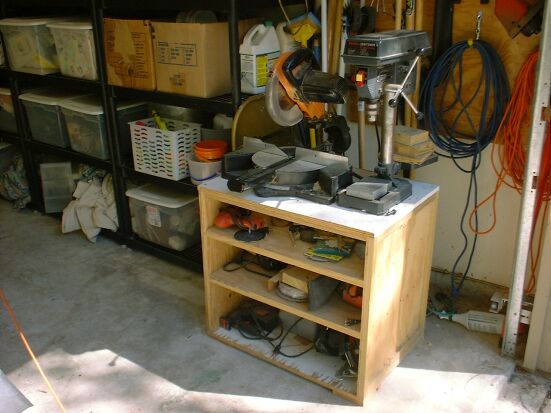 Saw / Drill Table
This my combo saw and drill table. There isn't much to it, is just a box with a couple of shelves, but it is so handy. The saw table is flush with the shelves next to it, and near the door so I can cut very large boards without having to move anything. The drill next to it usually has a 5" disk with 80 grit sandpaper and I use it as a sander. All of my hand power tools and their supplies live on the shelves underneath.
And I must say, after resisting getting a compound miter saw for years, it sure is a great tool that I use on almost every project now.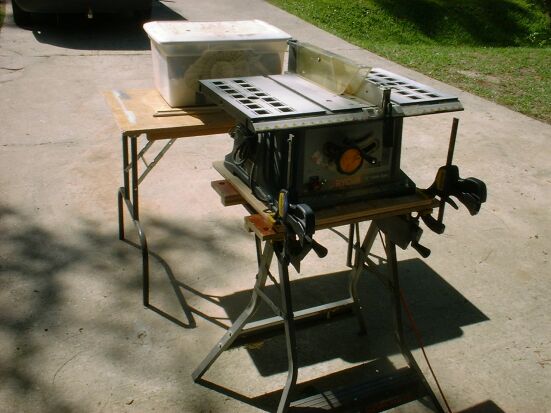 Table Saw
Most table saws are very large and take up their own chunk of floor space. When using them, you have to wheel them around to a place where you can feed material. I avoided this by buying the smallest table saw I could find, and then using clamps to hold it to my work mate. I also made a plywood base for the saw, so it is easy to clamp to the workmate. When not using it, I just put it up on a shelf. The table behind it with the plastic box is my exit support, so the long boards can sit on it after being run thru the saw.
The compound miter saw does most of the work these days, the only thing I seem to use the table saw is long rips.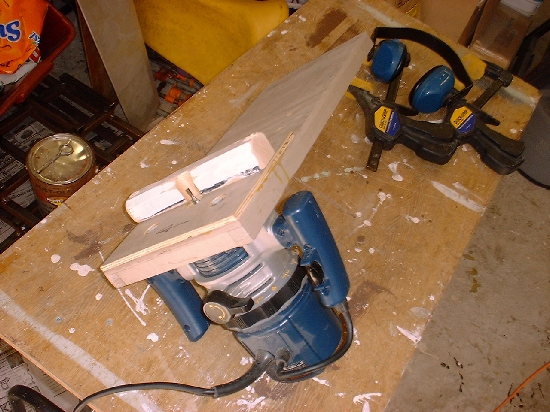 Router Table
A router will take an average looking project and make it look 95% better. I started off by clamping the material to a table, then running the router over it. Then one day I made this simple router table, it is just a piece of plywood with framing pieces run around the perimeter to stiffen it. Counter sunk bolts hold the router on. Have to admit, I only tightened the bolts once -- have never removed the router since building the table. It lives on the bottom shelf of my saw & drill table (shown above) when not in use.