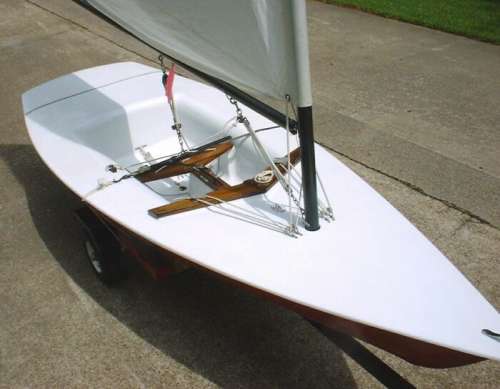 Boat Name
Force 5
Manufacturer
AMF
Hull Type
Board Boat
LOA
13'10"
(4.22m)
Beam
4'10"
(1.47m)
Weight
145
(65.9kg)
Ballast
(0kg)
Keel Type
Berths
Draft Up
0"
(0m)
Draft Down
0"
(0m)
Year Start
Year End
Number Made
Country
MIC
Shortypen ID
223
Clone
[ definitions ]
[ suggest corrections to specs ]
2016-09-27 by: James White
Awesome!!! Really cool story and pics of the Holder 12.
Love the lateen rig on her too. Good job!!!! I've put the
lateen rig on so many boats (I have the original sail rig for
the boats but used lateen setup for ease when I felt like it.
I once had a beautiful green stripe Sunfish lateen rig on a
Force 5. I wrapped some sheets of plastic around the mast
base so it would fit more snug in the F5 step. I really like
creative people who can think outside of the box.
...read more
(picture)