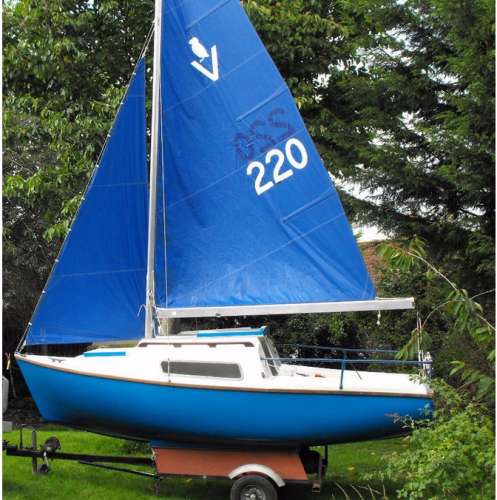 Boat Name
Voyager 14
Manufacturer
Kings Lynn / Juxtamare Marine, Ltd.
Hull Type
Pocket Cruiser
LOA
13'4"
(4.06m)
Beam
5'1"
(1.55m)
Weight
750
(340.88kg)
Ballast
150
(68.18kg)
Keel Type
twin keel
Berths
2
Draft Up
1'6"
(0.46m)
Draft Down
0"
(0m)
Year Start
1970
Year End
Number Made
Country
England, Essex
MIC
Shortypen ID
11
Clone
[ definitions ]
[ suggest corrections to specs ]
2016-08-07 by: Ian
I had a Redstart - very similar to a Voyager - back in the 1970s. Redstarts were 14'6' long - the additional 1'6' was for a stern locker aft of the cockpit. Redstarts, up to about sail No 84, were fin keel; after that, some were built with bilge keels.Voyagers were bilge keel, and I have never seen a fin keel Voyager.
Some time ago, the name Redstart seems to have been dropped; there was a boat for sale at Ludham Bridge, Norfolk, a couple of years ago that was said to be a Voyager 14,
...read more
2016-09-26 by: DaveB
I've currently got the Redstart version of this, as Ian says its slightly longer with an aft locker for fenders, warps etc. It is a bilge keeler.
I kept and sailed it for a few years in the water at Walton and Frinton yacht club, however it is back home in the Midlands at the moment about to have a refurb.
Its hull is painted dark green, but wear patches show that it was red originally, befitting its name, so after a sand down that is what it will be resprayed.
Deck is
...read more