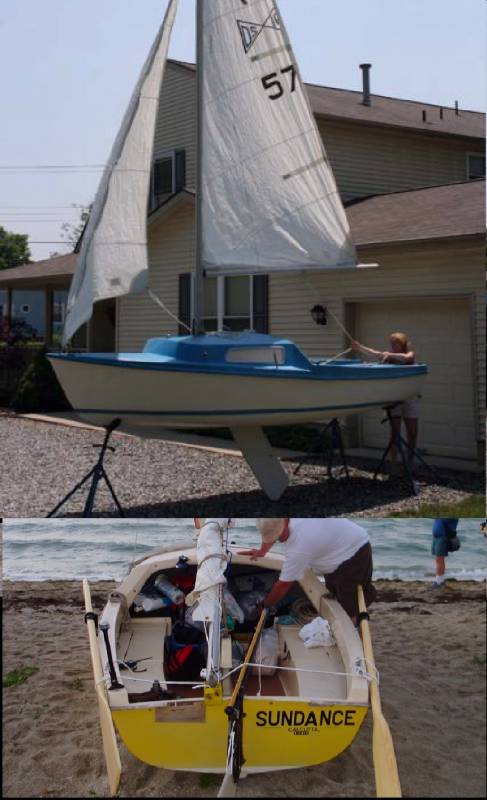 Boat Name
DS-16
Manufacturer
Diller-Schwill Yachts
Hull Type
Pocket Cruiser
LOA
16'0"
(4.88m)
Beam
6'0"
(1.83m)
Weight
650
(295.43kg)
Ballast
203
(92.26kg)
Keel Type
swing keel
Berths
2
Draft Up
7"
(0.18m)
Draft Down
4'0"
(1.22m)
Year Start
1969
Year End
1992
Number Made
1019
Country
Canada
MIC
Shortypen ID
30
Clone
[ definitions ]
[ suggest corrections to specs ]
2016-10-10 by: Norm
Hi Shorty I was just looking at your spec's on the Diller Schwill DS16 sailboat the year 1969 was when they were first started to be built. The very last boat built was 1992 that was when Schwill yachts closed its production of the DS16 sail boat. There were 1019 DS16's built over the years of production. At the end of the line they were all known as a DS16K Shoal Draft keel. The center board models were discontinued years before the closing.
2016-10-11 by: Norm
Hi Shorty here is a picture of a DS16K this boat was built in 1978 . The first Keel boat he built was called the DS16MK3 it was the old style DS16 it was a open cabin with a hard curtain .In 1976 he changed the looks of the boat and raised the deck height.
(picture)
2016-10-11 by: Norm
This picture shows the cockpit of the DS16-C with the centerboard trunk.
(picture)
2016-10-11 by: Norm
In addition to my DS16K, I also have a DS16-C which is now my trailer sailor. I did have a couple of the older style boats with the open cabin but they are now long gone.
(picture)
2016-10-11 by: Norm
Here is a picture of my DS16K on the trailer it shows the keel better.
(picture)
2016-10-12 by: Norm
The DillerSchwill DS16 Designers G Diller & H Schwill
The DS16 sailboat is a excellent sailor and handle very well and point well into the wind also very stable boat and easily sailed by one person and easy to trail behind a small car . There are actually five different version of the boat . The very first DS16 was built on November 17'1968 a couple were made in that year and in 1969 it was all go. The first series DS16's were a open cabin boat with a vee berth for overnight sailing trips
...read more